28pc 12-Element High-Quality, Heavy-Gauge Stainless Steel Cookware Set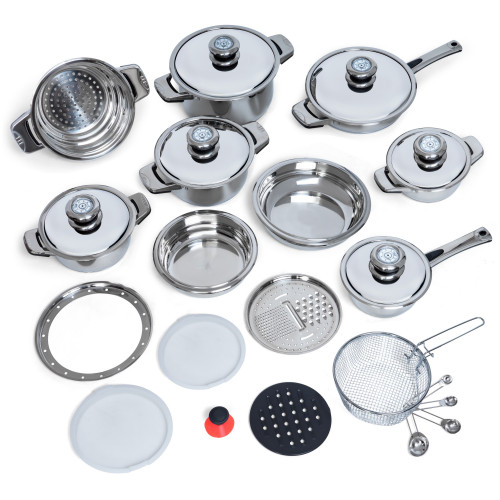 Chef's Secret 28-Piece Cookware Set - 12-Element Heavy-Gauge Stainless Steel Waterless Cookware - Kitchen Pots and Pans, Steamer, Broiler for Cooking, Frying - Home Essentials & Gifts for Cooks, Chefs
Purchasing your cooking equipment individually can be a tiring business. Aside from that, buying piecemeal can get expensive, too. Thankfully, you can now get them in sets. The only thing left to do is choose a set that can handle your kitchen. If you're looking for a bundle that's complete, long-lasting, and allows you to indulge in waterless cooking at the same time, then you're going to love what we have in store for you. This 28-Piece 12-Element Stainless Steel Cookware Set comes complete so you can have the perfect pot or pan for any cooking job!

All The Pots, Pans & Accessories You Need - Get a hold of this amazing bundle! From small to large casseroles to fry pans and deep fry baskets and even measuring spoons, we have your needs covered!
Cook With Them for Longer - The pots and pans are crafted from heavy-gauge stainless steel that stands strong against regular and everyday use. Handles are steel capped and riveted for durability.
Prepare Juicy & Healthy Dishes - The glass lids are fitted with state-of-the-art thermo-control knobs. With this waterless cookware, you can let the food cook in its natural juices and fats.
Serve Evenly Cooked Meals - The material and multi-ply construction of these stainless-steel pots and pans allows for even heat distribution when cooking and helps minimize or eliminate hot spots.