30qt 12-Element Waterless Stockpot with Steamer Basket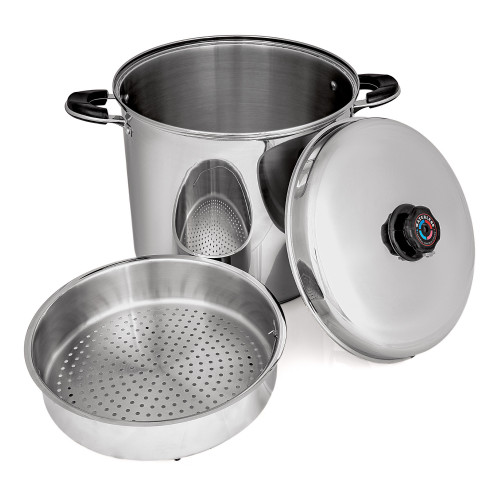 Precise Heat 30 Quart Waterless Stockpot with Steamer Basket
Made of T304 stainless steel, this highly polished large stock pot lets you steam cook with minimum water. Let food start to cook on medium heat, then, when the valve starts to whistle, push the lever until the word CLOSED appears. Turn the heat down to low and let the cooking process continue. This will help retain taste and valuable nutrients. This also eliminates the need for grease or oil in cooking. The steamer basket will hold a colorful bouquet of vegetables or fish for steaming. Handles are riveted. Limited lifetime warranty. White box.

PROFESSIONAL-GRADE AFFORDABILITY: Precise Heat's T304 Surgical Stainless-Steel stockpot with steamer basket is a stunningly beautiful collection of cookware that provides durability and decades of reliable use.
CUTTING-EDGE CRAFTSMANSHIP: Forged out of corrosive-resistant surgical stainless steel to withstand erosive acids in fruits, vegetables, milks and meats, our high-quality waterless cookware utilizes steam to make healthy entres with no oil at all.
SILICONE AND WIRE HANDLES: The large, stainless-steel-wire handles are wrapped with silicone for a sturdy and comfortable grip.
CONDUCTIVE EVEN HEATING: Spreading heat quickly and evenly throughout their 9-ply base, the temperature of our healthy cookware is controlled via Steam Control Valves which allow you to prepare your meals with the perfect amount of mouthwatering warmth!
ELEGANTLY STYLISH REFINEMENT: Featuring a satin-finished interior and mirror-finished exterior, our superbly styled waterless steam-controlled cookware is resistant to the damaging effects of detergents and are all covered by a Limited Lifetime Warranty.