5-Piece Fixed Blade Skinning Knife Set with Orange Handles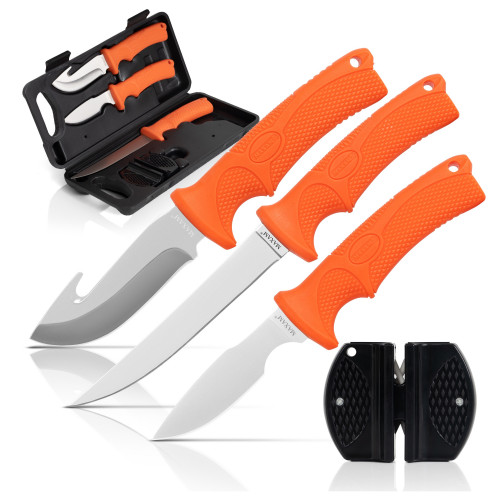 Maxam 5-Piece Fixed Blade Skinning Knife Set - Stainless Steel Dressing Tools with Orange Handles - 8.75" Skinning Knife, 8.75" Caping Knife, 10.5" Boning Knife, Storage Case, Double-Sided Sharpener
If you love going hunting or camping with your friends, then you know just how important it is to have the proper tools to help you in the wilderness especially if you plan on hunting for food while you're on your trip. Sure, a good rifle is what you need to catch your prey but having a reliable set of knives is just as important. The blades you use will help you prepare your catch and slice under their skin and through meat with ease. Lucky for you, we've got a set of carvers that are designed for the outdoors!

Be A Pro Hunter - Add a reliable hunting knife set to your arsenal and handle deer, buck, and boar hide with ease. The kit comes with an 8.75" skinning knife, 8.75" caping knife, and 10.5" boning knife.
Long-Lasting Sharpness - Crafted using stainless steel with a satin finish, our hunting knives have razor-sharp blades. Use the included double-sided sharpener so you can hone your knives when needed.
Keep Your Blades In Pristine Condition - Don't let dirt or moisture ruin perfectly good field knives. Our bundle includes a custom storage case, so your knives are always safe and protected.
Comfortable Grip - Filet, skin, and gut game. The knives are fitted with non-slip handles, which allow you to firmly hold the blades. The handles are bright orange, making them easier to locate.
Buy With Confidence - We're all about making our customers happy, which is every hunting knife kit comes with a limited lifetime warranty. Don't hesitate to contact us if you have any concerns.
Details
Brand
Maxam
Location
Warehouse
Texas