Motorcycle Vests in Buffalo Leather w. Patches - Size Large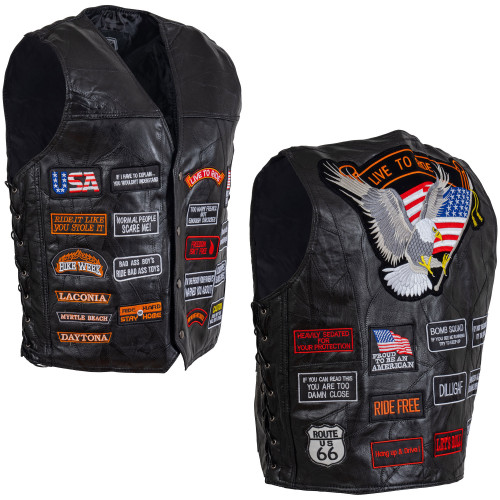 Diamond Plate Buffalo Leather Motorcycle Vests for Men - Black Biker Armor, Large
Not everyone who commutes rides the bus or takes the subway — some folks simply prefer to go by motorcycles. Aside from being fuel-efficient and easy to maneuver in traffic, riding bikes also gives one this thrill that you can't quite experience when you're driving an enclosed vehicle. However, proper riding gear is essential. Whether you're on a cross-country journey, going to the bike shop, or simply cruising around town, wearing the right vest can have you looking and feeling your best. The Buffalo Leather Motorcycle Vests for Men from Diamond Plate makes a stylish addition to your riding wardrobe.

Classic Biker Look - This premium black leather motorcycle vest features 32 embroidered patches sewn in at the front and back. They give our leather biker vests a luxurious and road-worthy appeal.
Crafted To Last - This motorcycle leather vest for men is made from high-quality buffalo leather. The material is expertly stitched, lending exceptional durability to this leather protective armor.
Ride In Comfort - The lightweight leather material of this motorcycle vest armor feels soft to the touch and the comfortable inner polyester lining makes it a pleasure to wear even during long rides.
Perfect Fit - Our motorcycle leather vests for bikers have durable and adjustable side laces. These allow you to tighten or loosen the leather biker vest for men to suit your size for the best fit.
Keep Your Belongings Safe - These are vests for men with pockets along the interior. The zipper pockets of our men's leather vest are large for phones, cards, cash, wallets, keys, and other valuables.
Details
Brand
Diamond Plate
Size
L
Location
Warehouse
Texas