Camouflage Stainless Steel Fixed Blade Skinning Knife with Gut-Hook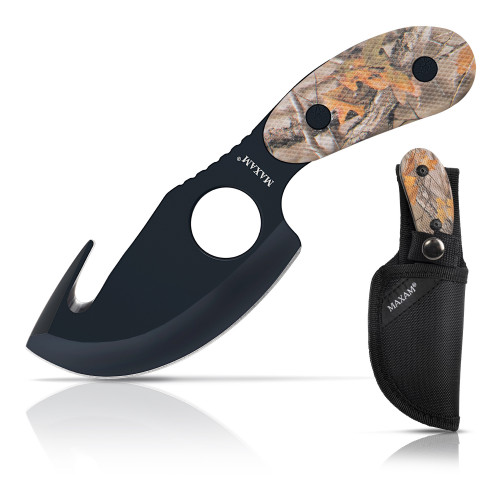 Maxam Camo Fixed Blade Knife, All in One Skinning Knife with Gut-Hook, for Hunters and Outdoors
This knife from Maxam is an outdoorsman's favorite, it is lightweight and durable enough to use over and over without having to sharpen the blade every time. The shape of the blade combined with a gut hook makes it an excellent deer skinning knife. The durable blade is made of stainless steel, featuring an anti-glare finish. Measuring 6 3/4 inches overall with a 3 1/2-inch blade, this skinning knife is less cumbersome than other knives and the unique blade is sturdy enough to handle all the necessary cuts when skinning a deer. Limited lifetime warranty.

HUNTERS LOVE THIS KNIFE: The reviews are in, and hunters agree this knife is an excellent choice when it comes to skinning game, especially deer.
DURABLE AND LIGHTWEIGHT: This knife is lighter and shorter than many other hunting knives making it easier to handle. The included black Mossberg knife sheath is built to handle the demands of serious hunters.
STAINLESS STEEL BLADE: The 3-1/2-inch blade is made from stainless steel, which is designed to be used several times without having to sharpen it after every use, and features an excellent gut hook. The blade also features an anti-glare finish.
SIZED TO GET THE JOB DONE: The overall length of the Mossberg Fixed Blade Knife is 6 3/4 inches with the blade measuring 3 1/2 inches. The unique shape of this knife makes the skinning of deer easier than many other larger knives.
MAKES A GREAT GIFT: When it comes to buying a gift for a hunter or outdoorsman you just can't go wrong with a good knife. Perfect for birthdays or holidays.
Details
Brand
Maxam
Total Length (in)
6
Location
Warehouse
Texas