Chef's Secret 28pc 12-Element T304 Stainless Steel Cookware Set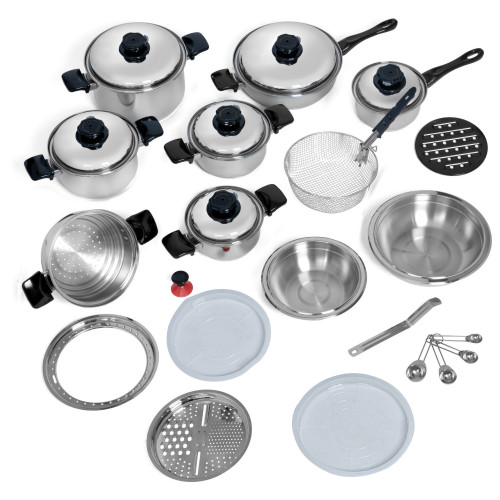 Chef's Secret 28-Piece 12-Element T304 Cookware Set - Stainless Steel Pots and Pans for Waterless Cooking - Airtight Lids, Steam Control Valves, Multi-Ply Metal, Black Handles - Kitchen Sets for Home
There's nothing more satisfying than serving delicious and nutritious meals to your family and friends. One of the easiest ways to achieve that is through waterless cooking, a method that helps preserve the nutrients found in the food. The thing is you can't use this style of cooking with your regular pots and pans. What you need is a set of cookware with air-tight lids and a solid multi-ply construction. And if the bundle comes with a host of other cooking utensils and accessories, then that's all the more value for your money. Superb Value for Money Upgrade your kitchen. Inside this set you'll find a: - 5qt saucepan with cover - 2qt stockpot with cover - 3qt stockpot with cover - 5qt stockpot with cover - 6qt stockpot with cover - 10-1/2" frypan with cover and helper handle - 9-3/8 mixing bowl - 11 mixing bowl with polypropylene covers - 8-3/4 steamer basket - 7-7/8 deep fry basket with handle - Pan-top grater with handle and adapter ring - Suction knob - Phenolic trivet - 4-piece measuring spoon set.

Everything You Need in One Package - This stainless-steel cookware set comes with pots, pans, lids, steamer baskets, and a host of other cooking accessories. It's the only set you'll need for your kitchen.
Serve Scrumptious & Nutritious Dishes - With its multi-ply construction and tight lids with steam-control valves, this stainless-steel pots and pans set is the perfect companion for waterless cooking.
No Odd Smells or Taste - Aside from being exceptionally durable, the T304 stainless steel used for the cookware does not react with corrosive substances and alkalis found in veggies or meat.
Well-Cooked Meals Every Time - The materials and multi-ply construction of the stainless-steel pots and pans allow for better heat distribution and retention. As such, meals come out evenly cooked.
A Stunning Collection - The beautiful reflective mirror finish on the exterior, the satin finish on the interior, and black handles come together to create a cooking set you'd be proud to have in your kitchen.