Chef's Secret 44 Quart Stainless Steel Stockpot with Basket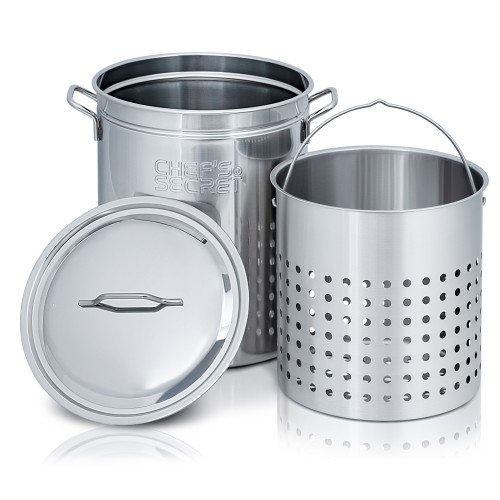 Chef's Secret 44 Quart Stainless Steel Stockpot with Basket: Perfect for Soups, Boils, Stews and Tamales
Create delicious soups and stews with ease with the Chef's Secret 44 Quart Stainless Stockpot w/ Basket! This extra-large pot is ideal for making larger batches of your favorite meals. The stainless-steel construction ensures this pot will stand the test of time and is compatible with induction cookware, making it the perfect choice for home cooks with induction cooktops. The stainless-steel lid features a convenient strainer for draining liquids with ease. Additionally, this pot can also be used with medium to large crawfish boilers, for creating a large amount of delectable seafood. The 44-quart size allows large amounts to be cooked at once, allowing cooks to feed a small army quickly and comfortably. The Chef's Secret Stainless-Steel Stockpot is the perfect choice for a kitchen or outdoor cook. The superior construction of the pot allows it to withstand the heat, while the stainless-steel material is simple to clean and maintain. Stovetop use allows simmering and reducing of liquids, while the included basket can be used for easy draining or steaming of vegetables. This stockpot can also be used with large Royal Prestige ollas de cocina or Cuisinart induction cookware as well. Craft your favorite seafood dishes, create delicious soups or reduce liquids in this 44-Quart Stainless Steel Stockpot w/ Basket.

Large Capacity - A 44-quart stainless steel stockpot provides ample room for preparing soups, stews, stocks, sauces, pastas, crawfish boils and more. Able to cook for large crowds, perfect for hosting dinner parties, camping, and other gatherings.
Safe and Durable - Constructed of premium 18/10 stainless steel, this Chef's Secret Stockpot is solid and durable for long-term daily use. It is also free of toxins, safe for food contact, and won't corrode, rust, or react to acidic foods.
Energy Efficient - This induction-compatible pot is suitable for all cooking surfaces, including induction, gas, electric, and ceramic glass! Its mirror finish and impact-bonded base let your food cook faster and evenly while using minimal energy.
Versatile - This stockpot comes with a perforated basket, allowing you to steam clams, shrimp, lobster, vegetables, and much more. You can also use it to blanch vegetables or pasta, or as a colander or strainer.
Easy Cleaning - This Chef's Secret Stockpot is oven-safe up to 500°F, so you can easily transfer it from the stovetop to the oven. Plus, its sleek stainless finish makes it easier to clean and keep it looking new for years to come!
Details
Brand
Chef's Secret
Location
Warehouse
Texas