Counter Top Induction Cooker with Sensor Control Panel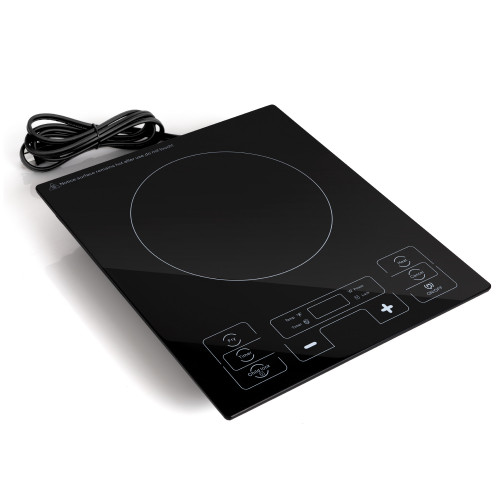 Portable Induction Cooktop, 1500W Electric Induction Cooktop with Kids Safety Lock, 8 Power Levels, 9 Temperature Setting Countertop Burner with Timer
With 8 power levels and 9 temperature levels, this cooktop lets you quickly choose your desired power from 160W to 1500W or from 180 degrees to 450 degrees enough power to meet your various cooking needs. In order to use this and any other induction cooktop, you need to have the right kind of cookware. The energy produced by the Precise Heat is directly supplied to the cooking vessel by a magnetic field. Precise Heat induction Cooktop is fast and safe to use, easy to clean. This versatile cooktop is great for entertaining; use it as a stylish, elegant centerpiece on the table, for outdoor parties and in the kitchen as an extra cooking zone.
8 Power Levels: Quickly choose your desired power from 160W to 1500W, 1500W power to meet your various cooking needs; simmer, deep fry, boil, sauté, sear, steam, slow cook and grill with ease.
9 Preset Temperature Levels: Adjustable temperature ranging from 180 F (82 C) to 450 F (232 C); sensitive large touch buttons for ease of use.
Induction Cookware Required: Induction stoves rely on cookware to heat, so its essential to have magnetic bottom cookware with a minimum diameter of 5 inches. The auto-pan detection will shut the unit off automatically after 60 seconds if no cookware, or the incorrect cookware is detected.
Easy To Use And Portable: The cooktop surface measures a diameter of 8.5 inches to fit frying pans with a diameter of 10 inches ensuring a large and uniform heated area; the lightweight electric cooktop is easy to handle and store and is the ideal size for RVs, small apartments or anywhere you want an extra cooktop.
Easy To Clean: With no open flame or heating element, food does not burn on the glass cooktop, making the induction burner easy to clean just wipe with a damp towel.