Diamond Plate 4pc Vest Extender Set with POW Medallions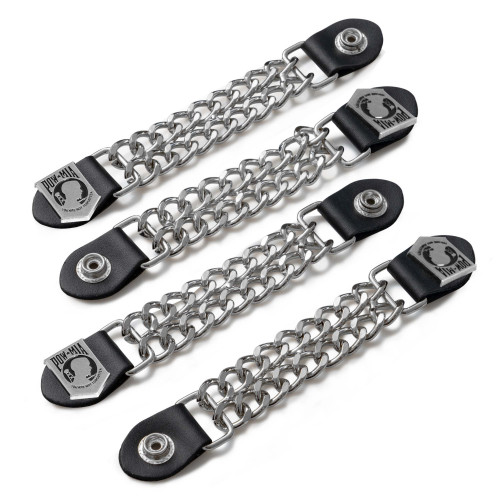 Diamond Plate 4-Piece Vest Extender Set - Jacket Accessories with Chrome Finish Chains, Faux Leather Ends, Nickel Button with POW Logo Engraving - Attaches to Most Vest Sizes - 6.5 Inch Extensions
A great-looking and comfortable vest is a staple in many bikers' wardrobes. This garment, which is typically made of leather, provides some form of protection without being too hot or too restricting like a motorcycle jacket. The thing is that we tend to outgrow our favorite biker attire at some point, which makes them uncomfortable to wear. Whether you're looking to adjust your vest's fit or simply give it a fresh, new look, we have the perfect solution for you.
These stylish and durable 6.5"x1" vest extenders come in a 4-piece pack. The high-quality snap closure button allows for a secure attachment to most sizes of biker vests.
Our motorcycle vest extenders sport chrome-finished chain links, black faux leather ends, and buffalo head nickel medallions. It's a cool accessory to level up the look of your leather vest.
Using our biker vest extenders allows you to add more girth around your vest's torso. Make those vests you've outgrown at least 6.5" bigger so you can wear them again!
Snap our extenders on and keep your vests open without them flapping around. This allows more air to flow through your body to keep you cool while you ride.
These stylish biker vest chain extenders can be excellent gifts for your vest-loving biker buddy, family, or friend. It's one practical gift that they'll love and enjoy using!
Details
Brand
Diamond Plate
Location
Warehouse
Texas