Diamond Plate Magnetic Stainless Steel Cup Holder with Screen Print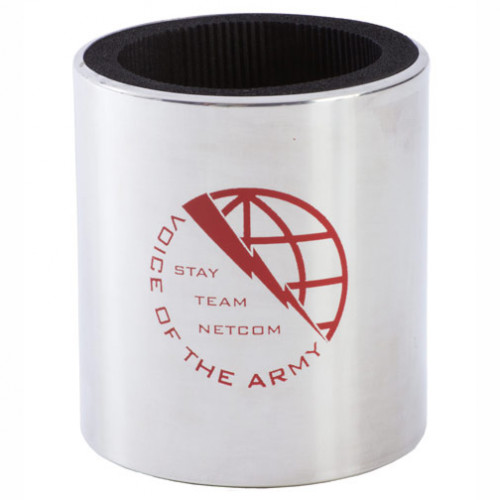 Diamond Plate Magnetic Cup Holder for Keeping Your Drink Secure to Most Metal Surfaces, Stainless Steel
Diamond Plate presents the Magnetic Cup Holder! This great looking stainless steel cup holder securely holds your beverage, keeps it cool and will stick to almost any metal. Use it on your riding lawn mower, tractor, heavy construction equipment, and backyard metal tables. it's great for tailgate parties, just stick it right to the trucks tailgate, bed or side panels. And boats too! Any boat with a ferromagnetic surface will work, so the rolling, pitching or yawing will have little effect on your secured drink. No more spilled drinks. Keep your soda or beer secured from accidental bumps and spills. The Magnetic Cup Holder will replace those foam type cozies we all use. The Magnetic Cup Holder features heavy-duty magnets in the base for a secure hold, a handsome mirror finish, drainage hole and insulating foam to keep your drink nice and cold. This is a perfect way to enjoy that next beer or soda. It works great even if you don't have something to stick it to; it'll still look amazing while keeping your beverage cold. The Diamond Plate Magnetic Cup Holder makes an excellent gift for anyone who enjoys drinking from cans or bottles, which is pretty much everyone. It measures 3 1/2 -inch in diameter, 4-inches high. Stainless Steel.

MAGNETIC CUP HOLDER: Secure your drink to almost any metal surface! Use it on a riding lawnmower, tractor, metal tables, heavy construction equipment, boats and more. it's excellent for tailgate parties, just stick it to the truck. No more spills.
INSULATING FOAM: Keeping your drink cold is important, so Diamond Plate made sure to include insulating foam which helps to limit heat transference while at the same time adds a little extra cushion to keep cans and bottles secure.
STAINLESS STEEL: The stainless-steel construction adds durability to this cup holder so it will last for years, and it also gives it a sleek and modern look that stands out in the crowd. This cup holder also features a convenient drain hole.
MEASUREMENTS: The cup holder measures 3 1/2 -inch in diameter and, 4-inches high. Just right for most all cans and bottles. This mirrored finished cupholder will become a favorite of yours to use and guests will want one for themselves.
MAKES A GREAT GIFT: The popular Magnetic Cup Holder by Diamond Plate is the perfect gift for everyone. A perfect present for birthdays, Christmas, housewarming parties and special occasions. It also makes a thoughtful thank you gift.
Print
Screen Print Side 1 3/4" x 2 1/2"
One Color Print
Minimum Qty: 36
Details
Brand
Diamond Plate
Location
Warehouse
Texas