Diamond Plate Motorcycle Flagpole Mount with 2-Ply Polyester USA Flag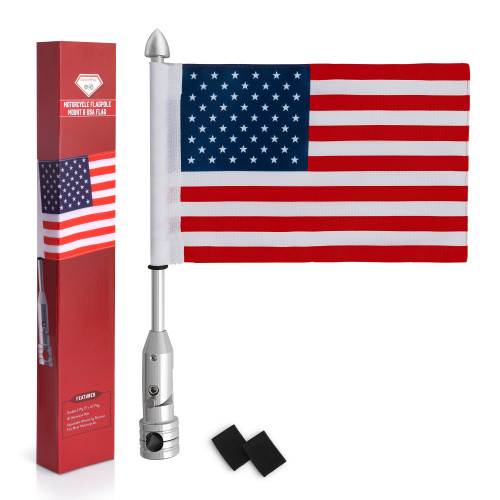 Diamond Plate Motorcycle Flagpole Kit with USA Flag - 13" Polished Aluminum Motorcycle Flag Mounts, Adjustable Brackets, Foldable Design - 6x9 Inch Double-Sided Weatherproof American Flag for Motorcycles
It's no secret that your bike is your baby. You spend countless hours (not to mention, hundreds to thousands of dollars) to keep it in the best shape possible. From simple handlebars to high-grade tires, there's much thought that comes into planning the next additions or modifications to your motorcycle. Even if it's something as simple as a new flag to show your American pride, you're looking for a quality product that best matches your bike's overall look and feel. This Motorcycle Flagpole Kit with USA Flag from Diamond Plate is the perfect choice to give your ride a patriotic spirit!

Show Your American Pride - Let your patriotic colors fly by mounting motorcycle flags! This vehicle flagpole mount kit is an excellent addition to your bike for July 4th parades and other rides.
Fits Most Motorcycles & Big Bikes - This flagpole for motorcycles comes with an adjustable mounting bracket or flagpole clamp built to fit the rear metal luggage rack of most motorbike brands.
Foldable, Chrome-Finish Pole - This motorcycle flag mount features a polished aluminum steel finish. It's also foldable for up to 90°. It folds easily when you pull the steel pin at the base.
Easy-Install Motorcycle Flag Kit - Our 13" motorcycle parade flag mount is secured by two bolts that can be easily screwed into place using a hex key or Allen wrench. It only takes minutes to install.