Faux Dictionary Safe, For Locking up Valuables in Plain Sight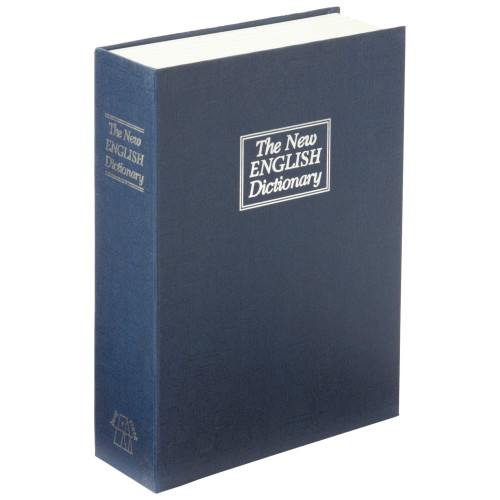 Faux Dictionary Safe, For Locking up Valuables and Hiding Them in Plain Sight
Storing petty cash, jewelry, loose change or any other small sized valuables is both fun and easy with the Faux Dictionary Safe. This unique lockbox looks like a small dictionary just sitting on your bookshelf or desk. The blue cover and spine feature the title 'The New English Dictionary'. Outwit petty thieves, the last place you'd expect a thief to look would be in a book of knowledge. While the outside resembles a dictionary, the inside contains a locking metal compartment which is perfect for securing the things you wish to keep from prying eyes and sticky fingers. This dictionary safe includes a set of two keys, so you'll always have a spare or be able to share a key with someone you trust. This safe is a great way to hide items in plain sight. It also makes for a great gift idea. Decorative and unique storage boxes are things people love and having something as unique as a dictionary safe with a key locking mechanism will be a hit. This lockbox is sized perfectly to blend in with other books. The exterior of the Faux Dictionary Safe measures 6 1/2 -inch x 9 1/2-inch x 2 1/4-inch. The locking metal interior measures 5 1/2-inch x 9-inch x 2-inch. Includes 2 keys, blue cover.
FAKE DICTIONARY, REAL SAFE: It looks like an ordinary dictionary just sitting on a bookshelf or desk, but it's really a safe that contains your valuables under lock and key. The dictionary safe looks like a real book, to hide things in plain sight.
FOOL THE FOOLS: Thieves aren't necessarily the smartest people around. The last place you'd expect a thief to look for your loot would be in a dictionary. Hide your jewelry and other valuables in this book to keep them protected.
LOOKS GREAT ANYWHERE: This fake dictionary lockbox looks right at home on any bookshelf or desk. Place it on a nightstand next to your bed for easy access, or on a dresser which is handy while emptying your pockets for the evening.
GREAT SIZE: The Faux Dictionary Safe is sized just right for your smaller valuables. The exterior measures 6 1/4 -inch x 9 1/2-inch x 2 1/4-inch. The locking metal interior measures 5 1/2-inch x 9-inch x 2-inch., and it comes with a set of two keys.
MAKES A GREAT GIFT: This dictionary safe makes a wonderful gift. it's a fun, decorative box which in itself is a popular gift, but the added value of being a locking safe is an off the charts gift. Perfect for birthdays, holidays and special occasions.
Details
Brand
Maxam
Location
Warehouse
Texas