Gun Cleaning Kit with Aluminum Shotgun Shell-Shaped Storage Case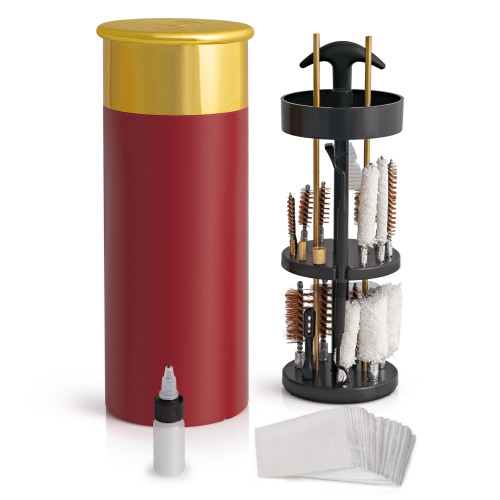 Wild Shot Deluxe Gun Cleaning Kit with Aluminum Shotgun Shell-Shaped Storage Case, Cleaning Tools to Effectively Maintain Handguns, Shotguns and Rifles
FAST-FIRING HIGH-PERFORMANCE: Wild Shot's Deluxe Gun-Cleaning Kit is a high-quality set of affordable gun cleaning tools that maintains handguns, shotguns and rifles in fine operating form no matter where the gunning action is!
ALL-INCLUSIVE GEAR: Includes 3 brass cleaning rods, plastic handle, 10 brass wire brushes, 5 mops, 2 brass adaptors, 2 plastic slotted patch holders, 25 cleaning patches, 1 double ended nylon brush, 1 double ended cleaning pick, 1 empty oil bottle all stored in a stylish, shotgun shell-shaped storage case.
EXTENSIVE GUN CLEANING POWER: A wide range of full-service tools for cleaning 45-cal., .40-cal, .357/.38-cal./9mm, .30 cal., .270 cal., .22 cal., and .17 caliber firearms and 12-ga., 20-ga., and 410 shotguns.
DEPENDABLE ON-THE-GO CONVENIENCE: Designed for compact workspaces as well as convenient traveling accessibility, our practical gun-cleaning kit offers everything a responsible gun owner needs to perform thorough cleanings anywhere life takes you.
SUPERIOR WEAPONRY CLEANING TOOLS: Wild Shot creates easy-to-use gun cleaning equipment that helps you care for firearms in a professional and affordably efficient manner.
Details
Brand
Wild Shot
Location
Warehouse
Texas