HealthSmart By Maxam Gray Granite Mortar and Pestle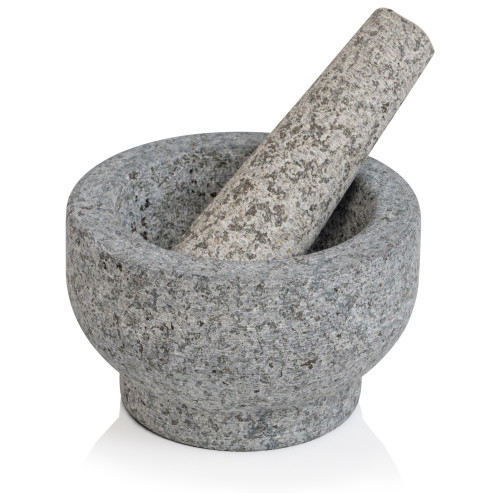 Maxam Gray Granite Mortar and Pestle Set - 5 Inch Diameter - Unpolished Granite - Natural Appearance - Excellent for Grinding Fresh Spices and Herb
A real chef uses a mortar and pestle in the kitchen. A gourmet chef keeps a mortar and pestle on the counter to grind spices, smash nuts and seeds, make condiments and sauces, and of course, create the glorious pesto or salsa. When you've moved beyond pre-packaged spices, use this HealthSmart Granite Mortar and Pestle during meal prep and you'll soon realize releasing the fresh flavors and oils of the spices you use in cooking makes a big difference in the taste of the food! The Stone Age kitchen tool that is just as relevant today in the cooking process, with a rough textured interior for efficient grinding. When visitors see a quality mortar and pestle in your kitchen, they know you're a connoisseur that takes cooking seriously. When your mortar and pestle arrive, please take the time to season it properly. To season, place one-quarter cup of white rice in the mortar bowl and grind to powder using the pestle. Check the powder for any granite debris, and if you find any, repeat this seasoning process. Properly seasoning your mortar and pestle will remove manufacturing impurities. Once properly seasoned, clean your mortar and pestle by rinsing with hot water and cleaning with a brush. Do not use soap to clean, the granite will absorb the soapy residue and in turn transfer that to your food. Excellent gift idea for the newlyweds, a housewarming gift, or any serious cook on your gift list. Heavyweight construction of solid granite stone weighs approx. 5 pounds. Mortar measures 5-1/8-inch diameter x 3-1/4 inch, with 5-1/8-inch pestle.
IMPROVE YOUR RECIPES: Our Granite Mortar and Pestle allows you to release the flavors and oils in freshly ground spices which makes a big difference in the taste of the food. Taste the difference in your favorite recipes!
A HEAVYWEIGHT IN THE KITCHEN: Made from solid granite stone and weighing in at 5 pounds this mortar and pestle set will stay put as you grind those aromatic spices and herbs. The heavy granite will offer you a lifetime of use.
EYE CATCHING BEAUTY: Adding the Health Smart Granite Mortar and Pestle to your kitchen counter improves the d'ecor. Looking better than any electric appliance it's practically a functional art piece that tells your guests, dinner will be great.
SAVES COUNTER SPACE: Measuring only 5-1/8-inch diameter x 3-1/4-inch, with 5-1/8-inch Pestle this set takes up very little room on the counter, allowing you the option to keep it out all the time for everyone to enjoy. It holds up to 9-ounces.
Details
Brand
HealthSmart
Location
Warehouse
Texas