HEALTHSMART Porcelain Mortar and Pestle with Black Silicone Base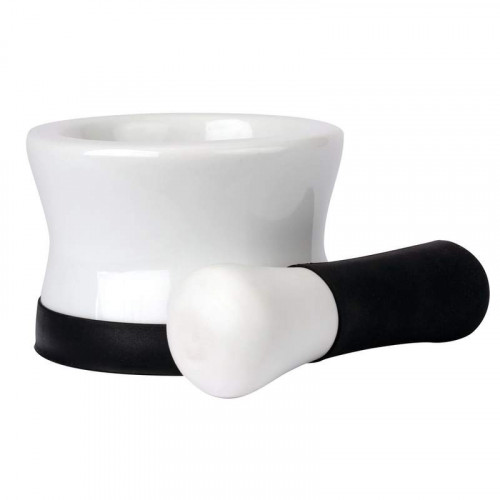 Healthsmart 4.5 Inch Porcelain Mortar and Pestle with Black Silicone Base
Grind herbs & spices in style with HealthSmart Porcelain Mortar and Pestle. Perfect designer complement to your kitchen decor that is functional, too. Use fresh-ground herbs and spices in your recipes, and you'll be delighted at the depth of flavor the natural oils add to your dishes. Set includes mortar with removable black silicone base and pestle with black silicone handle. Mortar measures 4-1/2" x 4-1/2" x 3"". Pestle measures 2" x 2" x 5-1/2"

GREAT ADDITION FOR ANY CHEF: This white porcelain Mortar & Pestle set has many households uses, including crushing medical tablets into a powder, grinding fresh herbs and spices.
NON-SLIP DESIGN: This white porcelain mortar and pestle set has a silicone base and handle to keep things under control and prevent slipping
HEALTHY ELEGANCE: HealthSmart's 4 1/2" wide Mortar & Pestle set made of white porcelain and is a great addition to any kitchen.
EASY TO CLEAN: The porcelain surface makes clean up easy, just remove the silicone rubber base, and it is suddenly dishwasher safe.