Leather Bible Cover, Protects with Additional Storage, Black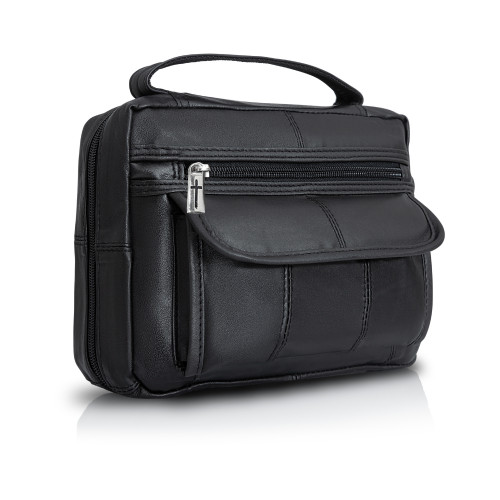 Embassy Genuine Leather Bible Cover, Protects and Shelters Your Bible Keeping It Safe and Offers Additional Storage, Black
The Embassy Genuine Leather Bible Cover offers protection and shelter for your religious books. Our cover provides ample room for your Bible, study materials and offering envelopes. This durable leather cover features a zippered main pocket, hand strap, interior pen holder, self-closing front pocket, and an additional front pocket with cross zipper-pull. Perfect for keeping your most precious text secure. Makes a great gift for anyone studying the bible. This cover measures 10-inches x 7-inches x 2-inches.
EXCELLENT PROTECTION: A Bible cover prolongs the life of your Bible, protecting it from the wear and tear of taking it with you. Even an inexpensive Bible will last longer with this genuine leather Bible cover.
GREAT FOR BIBLE STUDY: In addition to protecting the Good Book, this cover includes an interior pen holder and two exterior pockets for notebooks or offering envelopes. Plenty of room for storing study materials.
STORAGE POCKETS: The two storage pockets are on the exterior of this case. One is a self-closing flap style; the other is a zippered pocket adorned with the cross on the zipper pull. you're sure to get many years of use from this cover.
SIZED FOR MOST BIBLES: This cover measures 10-inches x 7-inches x 2-inches. Perfect for most Bibles that people carry. And the leather strap makes holding and carrying your bible easy and comfortable.
MAKES A GREAT GIFT: This cover makes a great gift for anyone beginning their journey of Bible study. It is also a good companion gift to give along with a new bible. Great for birthdays and Christmas too.
Details
Brand
Embassy
Warehouse
Warehouse
Texas