Lockback Knife with 420 Stainless Steel Blade Gift Boxed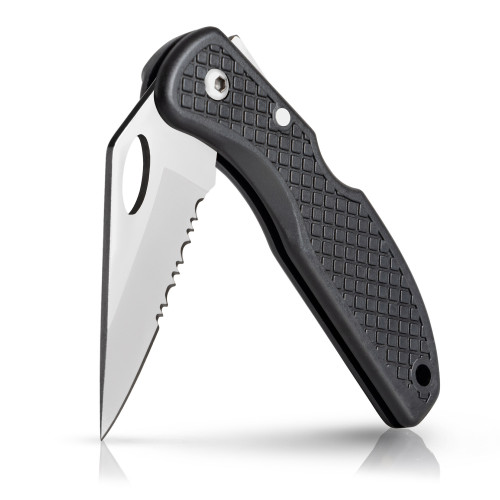 Maxam Falcon VII Lock back 7 (Open) Inch Pocket Knife - Stainless Steel Serrated Blade, Textured No-Slip Handle, Carry Clip
Pocket knives are usually carried by craftsmen or those who love going on outdoor adventures. Out in the wilderness, having a knife can spell the difference between survival and catastrophe. But always carrying one with you is actually a smart idea, even outside of life-or-death scenarios. You never know when you need to open a package or need something sharp to cut through objects. With so many options to choose from, however, it can be hard to select the perfect pocketknife that meets your everyday needs.
A RELIABLE CUTTING TOOL - Be prepared for any slicing or cutting tasks wherever you are. This folding knife features a serrated blade that you can use for carving meat and cutting ropes.
FEELS GREAT IN YOUR HANDS - Handling this every day carry knife is an absolute joy. This lock back pocket utility knife is fitted with a Leymar handle with a knurled texture to ensure a secure, non-slip grip.
FITS NICELY IN YOUR POCKET - The last thing you need is a knife that weighs you down. This lightweight pocketknife with clip measures only 4" when folded and 6.8" with the blade unsheathed.
WITHSTANDS THE ELEMENTS - Choose a folding utility knife that is as tough as the wilderness. The blade of this knife is made of 420 stainless steels, which stands strong against rust or corrosion.
Details
Brand
Maxam
Total Length (in)
6
Location
Warehouse
Texas