Maxam 16 OZ Ceramic Mug - "I LOVE it when MY WIFE lets me go hunting"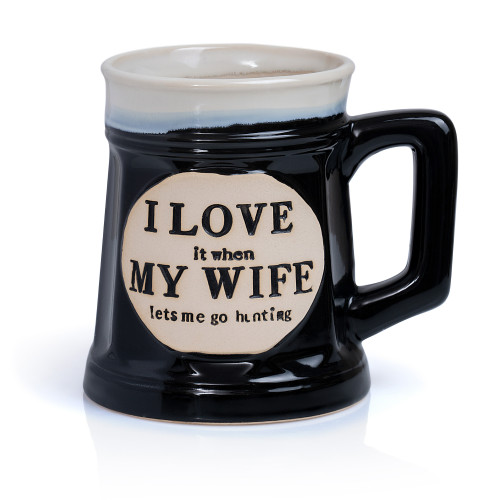 Ceramic Coffee Mug, Teacup for Office and Home, 16 Ounces, featuring "I Love It When My Wife Let's Me Go Hunting"
This mug has a large capacity (16 ounces), which will definitely meet your needs for office and home.
Funny Hunter Gifts - This hunting novelty mug features a quote that reads, "I Love It When My Wife Lets Me Go Hunting." Our mugs are great gifts for hunters on occasions like Christmas or birthdays!
For Your Favorite Drinks - Enjoy a cup of coffee, tea, and hot chocolate. Or, quench your thirst with ice-cold juice or beer. Our deer hunter mug or bird hunting mug is suited for hot and cold drinks.
Sip More Caffeine - You can fill our 16oz cabin coffee mugs with more than enough java to kickstart the day. Our hunting mugs for men are dishwasher, microwave, and fridge-safe so they're easy to use.
Great For Outdoor Adventures - Made of heavy-duty ceramic, this non-slip hunting coffee mug wont get damaged easily. Use this coffee cup at home, in the office, or on fishing and hunting trips.
Securely Packed with Care - This 4.5x4x3.5 gift for hunter is carefully packaged inside a durable box with polyfoam. This keeps our fishing and hunting gifts safe and protected while in transit.
Details
Brand
Maxam
Volume (oz)
16
Location
Warehouse
Texas