Maxam Rampant Grappling Hook with Rope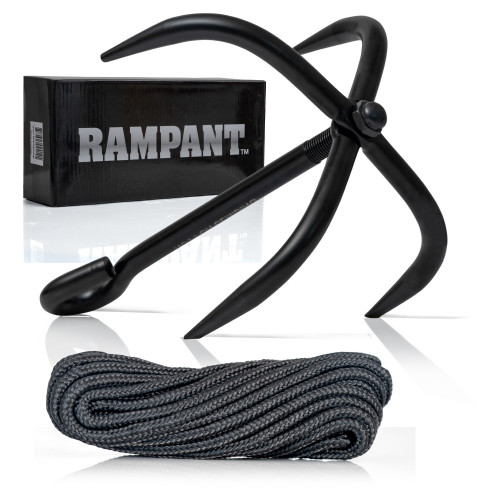 Maxam Rampant Grappling Hook with Rope
The Rampant Grappling Hook with Rope features a collapsible 13mm diameter steel hook with a rugged nylon rope. The grappling hook is designed to be taken apart into 3-pieces for convenient storage. It can be quickly re-assembled any time you need it. A grappling hook can come in handy for boaters, campers and even around the yard. The Rampant Grappling Hook is a great solution for general purpose use, but it is not designed for climbing. When assembled the hook measures 7-1/2-inch x 7-1/2-inch x 9-1/2-inch. The nylon rope measures 35 feet. Comes with a limited lifetime warranty.

A VERSATILE TOOL: The Rampant Grappling Hook is a must-have for so many situations. Whether you need to snag, drag, or lift something out of reach, a grappling hook makes the job nearly effortless.
GREAT FOR BOATERS: While on the water, having a grappling hook available can make life easier. A perfect way to snag something out of reach, or even to use it to pull a boat to shore.
OUTDOORSMEN AND CAMPERS: A grappling hook makes pulling or dragging firewood or logs around easier. Use it to throw a line over a branch and keep food and gear off the forest floor.
FOR THE HOME: Climbing a ladder with your hands full is not advisable. Use your grappling hook to snag and pull the tools up to you. With wide hooks, it's easy to lift and lower tools. Cleaning gutters just got a lot easier.
MEASUREMENTS: The Rampant Grappling Hook measures 7-1/2-inch x 7-1/2-inch x 9-1/2-inch and is collapsible for easy storage. The rugged nylon rope is 35 1/2 -feet long. Limited lifetime warranty. Not for climbing.
Details
Brand
Maxam
Location
Warehouse
Texas