Maxam Small Faux Book Safe, A Fun Way to Hide and Protect Your Valuables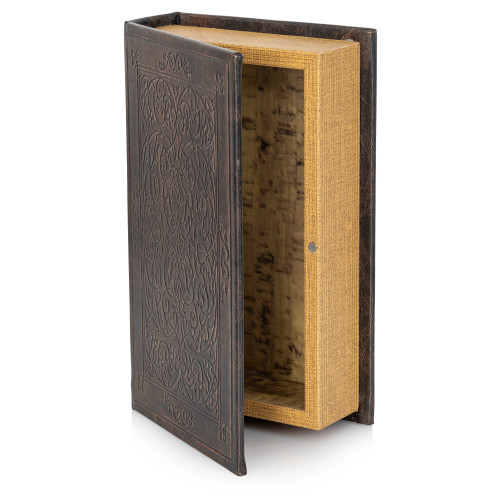 Maxam Small Faux Book Safe, A Fun Way to Hide and Protect Your Valuables
The Small Faux Book Safe is a fun way to keep your valuables hidden from prying eyes. Open this seemingly normal book and you'll find a hidden compartment measuring 4" by 7" and 1-5/8" deep, perfect for storing jewelry, cash or other small valuables. The magnetic closure keeps the book securely closed preventing accidental opening but allows access without a combination or key. This faux book is a sturdy brown Kraft box designed to look like a tooled leather-bound book with gilded pages and measures 5-1/8" by 8-3/38" by 2". It blends in on the bookshelf nestled amongst your real books while keeping the items you want to hide camouflaged by literature. It also looks great on a bedside table or as a conversation piece on a coffee table.
HIDE YOUR TREASURES IN A BOOK: This faux book blends in with the real books on your shelf. The brown Kraft box is designed to look like a real book, hiding your treasures within the secret compartment.
NO COMBINATION REQUIRED: This creatively designed box hides small valuables, cash or anything small keepsakes you wish to keep safe. there's no need for keys or combinations - a magnetic closure makes it as easy as opening and closing a book.
GOLD-TONE PAGES: Our book safe features an attractive cover combined with the appearance of gilded pages, just like many classic leather-bound gilded books, so it blends seamlessly with other volumes on the bookshelf.
FAUX LEATHER TOOLING: The front and back covers are designed to appear as if they are leather tooled, following the tradition of leather tooling for classic literature, completing the camouflaged appearance.
GOOD THINGS COME IN SMALL PACKAGES: The faux book safe exterior measures 5-1/8" x 8-3/8" x 2"
Details
Brand
Maxam
Location
Warehouse
Texas