Maxam 8' x 10' Weather and UV Resistant All-Purpose Waterproof Tarp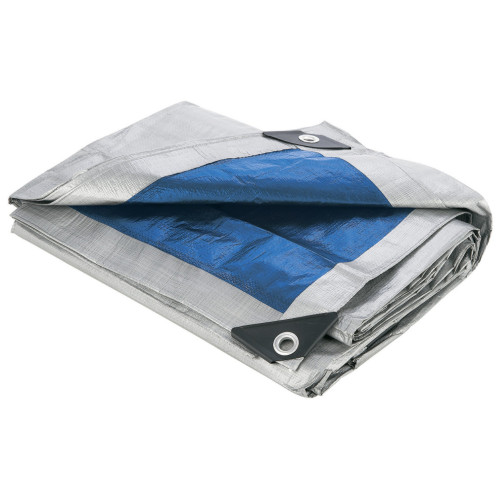 Maxam Waterproof Tarp 8 X 10 Foot - 3 Mil Medium Duty Lightweight Tarp - UV, Rip & Tear Resistant, Weatherproof Reusable - Multi-Purpose Tarp for Tent Camping Outdoor
A tarp is an extremely versatile tool because of its lightweight, waterproof, and flexible characteristics. Whenever people think of tarp cover, they think of temporary shelters. But, once you have started using the product, you will realize the multiple uses of these covers.

Made of high-quality woven and coated polyethylene material, this waterproof tarp is super durable and resists wind and rain. Ideal for housing or protecting valuables, including construction materials
Whether its windy, raining, snowing, or raining, our tarp for tent camping will protect any object from all extreme weather conditions. This is waterproof, UV, tear, mildew, and rot resistant
This rain tarp provides camping shelter from wind, rain, or sunlight for campers. It is portable, washable, durable, and reusable. This makes our shade tarp even stronger and better
This outdoor tarp can be used as weather and yard equipment cover. You can use this plastic tarp sheet to cover roofs, boats, pools, outdoor furniture, and much more. In case of any problems, please contact us
This Product will ignite and burn if brought into contact with an open flame. Suffocation hazard. Do not allow children to play with the tarp.