7-Ply Steam Control 17pc T304 Stainless Steel Cookware Set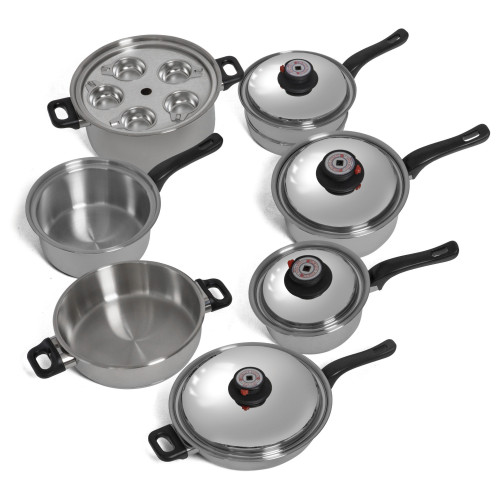 World's Finest 7-Ply Steam Control T304 Stainless Steel Cookware Set, 17 Pieces.
World's Finest 7-Ply Steam Control 17-piece Stainless-Steel Cookware Set is an all-encompassing array of steam-controlled cookware that helps you create healthy meals every day exactly the way you want. Manufactured with corrosive-resistant T-304 surgical stainless-steel, our high-quality waterless cookware set is designed to withstand the acids found in fruits, vegetables, milks and meats and utilizes steam to make healthy entrees with no oil whatsoever. Spreading heat quickly and evenly throughout the entirety of their 7-ply base, the temperature of our healthy cookware is controlled by steam control top knobs, which allow you to prepare your favorite meals with just the perfect amount of invigorating warmth. And with World's Finest 17-piece stainless-steel cookware set backed by a limited lifetime warranty, this ingeniously designed waterless cookware set also makes for a perfect housewarming gift.
GORGEOUS COOKWARE SET INGENUITY: World's Finest 7-Ply Steam Control 17-piece Stainless-Steel Cookware Set is an elegant collection of cookware that helps you refine your culinary skills in any sumptuously creative way you can imagine.
LONG-LASTING PROFESSIONAL-GRADE DURABILITY: Engineered out of heavy-duty T-304 stainless-steel for maximum corrosion-resistance, the 7-ply construction of our waterless cookware set makes stack-cooking possible by spreading heat quickly and evenly.
COMPREHENSIVE COOKING TOOLS: Set includes a 11.375" skillet, 7.5-quart roaster with cover, 3.2-quart saucepan with cover, 2.5-quart saucepan with cover, 1.7-quart saucepan with cover and a high dome cover that fits atop the skillet or roaster.
INNOVATIVE COOKING CAPABILITIES: Utilizing steam control valves to create an incredible array of healthy waterless recipes, our affordable cookware is also equipped with superbly styled phenolic heat-resistant handles that stay cool during stovetop use.
BEAUTIFUL KITCHEN COOKWARE ELEGANCE: World's Finest produces high-quality cookware sets that give home foodies, culinary students, novice and professional chefs a fine set of cooking tools and utensils for a budget price that are designed to last a lifetime.