Shotgun Shell Style 33.8oz Vacuum Bottle with Promotional Print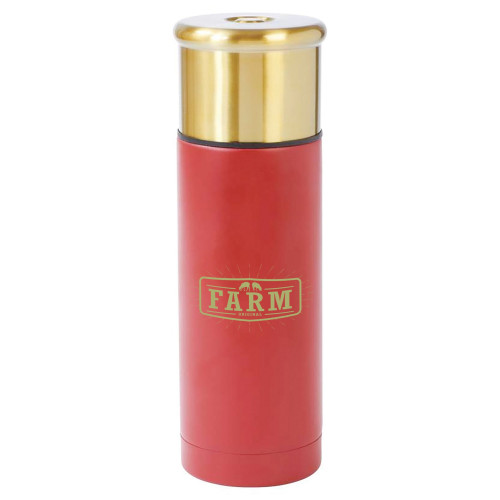 Classic Safari Shotgun Shell Stainless Steel Vacuum Beverage Bottle, Keeps Hot Beverages Hot and Cold Beverages Cold, 1 Liter
Whether out in the country duck hunting or at work, having a stainless-steel vacuum bottle is a must for your hot coffee, hot chocolate, soup or even cold beverages. But unlike other bottles this one looks like a shot gun shell. it's a great bottle for hunters, marksmen or anyone who enjoys a little target practice now and then. The stainless-steel liner with double wall construction and one-touch stopper will keep the contents hot or cold ensuring you will enjoy them. Topping off this fun looking bottle is a brushed finish screw-down cap that completes the look of the shotgun cartridge. The bottle measures 11-1/2-inches tall and 3-7/8-inches in diameter and holds 1-liter.

SHOTGUN YOUR COFFEE: This fun and functional vacuumed sealed beverage bottle looks like a shotgun shell. Take it with you on your next hunting trip, outing or to work. Enjoy your beverage or soup in this fun bottle.
KEEP IT HOT OR COLD: The stainless-steel liner and double wall construction with one-touch stopper will maintain the temperature of your drink or soup. Whether hot or cold, you'll be sure to have a beverage ready to go, the way you like it.
SHOTGUN SHELL DESIGN: This vacuum sealed bottle is designed to look like a shotgun cartridge. The red bottle is topped with a brushed finish screw down cap resembling a brass head and rim of the cartridge, completing the look.
MAKES A GREAT GIFT: Give one to yourself and one to a friend. Perfect for hunters, marksmen and gun enthusiasts of all types. Your favorite duck hunter will thank you.
Print
Imprint Area: Side 3" x 3"
Imprint Type: Screen

Minimum Quantity: 48

Details
Brand
Classic Safari
Volume (oz)
33
Location
Warehouse
Texas