Slitzer Germany 4pc Food Prep Set with Stainless-Steel Blades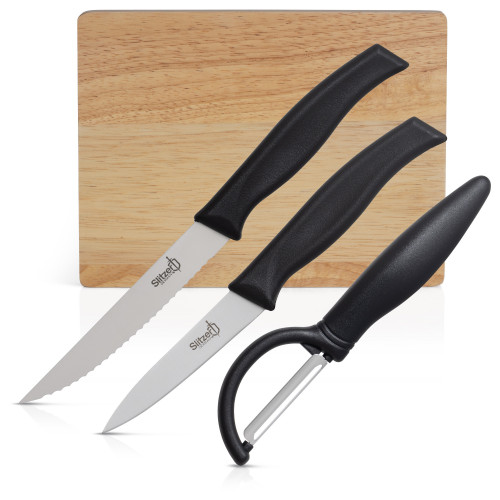 Slitzer Germany Cutting Board and Knife Set - German Stainless Steel 3.5 Inch Paring Knife, 4.5 Inch Utility Knife, Vegetable Peeler, 8x6 Inch Wooden Chopping Board - Food Prep Accessories & Kitchen Essentials.
Home-cooked meals offer an inexpensive, delicious, and altogether satisfying alternative to takeouts. It's the perfect solution for individuals who are trying to live a more healthful lifestyle. Unfortunately, meal prep can sometimes be time-consuming and exhausting. This is especially true when you're using the wrong tools. That said, it's always a good idea to invest in a set of kitchen utensils that will help reduce the stress when preparing ingredients. This Cutting Board and Knife Set from Slitzer Germany helps make preparing snacks and dishes easier, quicker, and more enjoyable.

Save Time & Money - Get all the basic food prep tools in one convenient package! With this complete kitchen set, you can save yourself the trouble of searching for and buying each utensil separately.
Sharp & Easy To Maintain Blades - Our kitchen knife set is crafted from premium German stainless steel known for its ability to retain its sharp edge for longer. They're easy to clean and sharpen, too!
Sanitary & Safe - The kitchen knives and vegetable peeler are fitted with polypropylene (PP) handles. These are more hygienic since they provide no room for dirt or harmful elements to grow.
For All Your Chopping Needs - Made of eco-conscious bamboo, this wooden cutting board is more than enough to handle the demands of most household kitchens. It's suitable for slicing, chopping, and dicing.
Buy With Confidence - Our knife and cutting board set is backed by a limited lifetime warranty. If you're not satisfied with the set or have concerns, just contact us. We're always ready to help!
Details
Brand
Slitzer Germany
Location
Warehouse
Texas