Stainless Steel Nonstick Double Burner Griddle Pan for Stove Top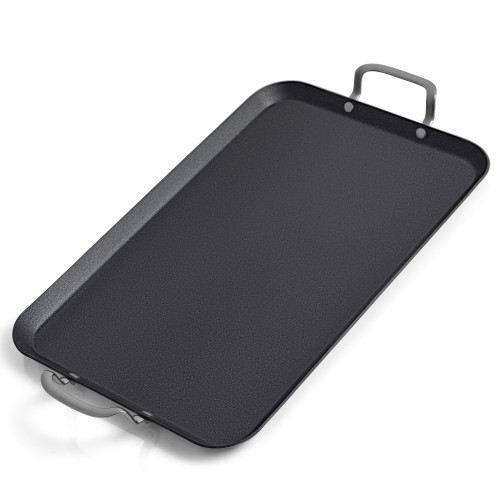 Chef's Secret Stovetop Griddle Pan - Stainless Steel Nonstick Griddle Pan for Stove Top - Double Burner Griddle, Flat Top Pancake Pan - Riveted Side Handles, Raised Lip Edges - 18.1"x11.37"x .75"
A good-quality pan sitting on a stove may get you far but some dishes just land better prepared on a griddle. Cooking with a flat top is the best way to achieve a perfect sear. And if you're cooking for an army, more space means you can load food onto waiting plates even faster. Griddles are easy to use or clean, and many find them easier to handle. If you think they're worth the splurge, you might as well get one big enough to fit over two burners instead of just one!

Heavy Duty Construction - Invest in high-grade cookware with a stove top griddle made of T304 stainless steel. This pancake griddle is built tough against warping or wear from heat and heavy use.
Maximized Efficiency - Double your surface area and cut down your cooking time! Fry bacon, pan-toast bread, and whip up delicious pancakes without having to use more than one flat top griddle.
Even Heat Distribution - The 5-ply stainless steel layers will help you achieve consistent temperature throughout the double griddle's surface, quelling hot spots that may burn food or dry it out.
Durable, Kitchen-Safe - Cook comfortably using the thick, riveted side handles. The Whitford nonstick coat of the double burner griddles is dishwasher safe. It's lead-, cadmium-, and PFOA-free.
Quick Cleanup - A nonstick griddle with raised sides sloping at a 45° angle make for easier drainage of grease/oil. Use hot, soapy water and a non-abrasive scrub pad for layers of stubborn residue.
Details
Brand
Chef's Secret
Location
Warehouse
Texas