Wild Shot Pistol Cleaning Kit with Storage Case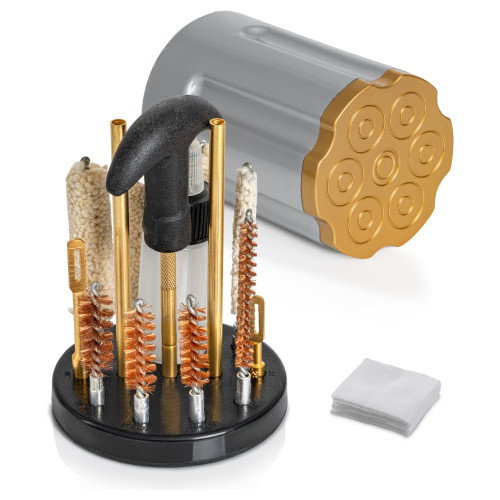 Wild Shot Pistol Cleaning Kit, A Complete Set Up to Keep Your Firearms Clean and Oiled
Keeping your gun clean is an important factor in gun ownership. Regular cleaning increases the longevity of your weapon and keeps you and others safer. Wild Shot offers a great solution. The Wild Shot Pistol Cleaning Kit with Storage Case. The kit includes Molded Storage Case, Molded Solid Tray, Swivel T-Handle Brass Rod, 2pcs Brass Rods, Universal Handle, 4pcs Brass Brushes - .22cal, .357cal, .40cal, .45cal; 4pcs Bore Mop - .22cal, .357/9mm, .40cal, .45cal; 2pcs Slotted Tip - .22cal, .30cal; 20 Cleaning Patches, and an Oil Bottle.
COMPLETE KIT: Everything you need to keep your handguns cleaned and oiled is included. All stored in a convenient case. Handles, brass brushes, bore mops, cleaning patches and an oil bottle are all included.
HANDLES AND RODS: This kit includes a swivel T-handle, a universal handle and brass rod.
BRASS BRUSHES AND BORE MOPS: The 4 brass brushes are sized for .22cal, .357cal, .40cal, and .45calibur handguns. Also included are 4 bore mops sized for .22cal, .357/9mm, .40cal, and .45cal.
STORAGE: The complete kit is stored in a compact molded case and tray with a screw on lid, the container is reminiscent of a shotgun cartridge.
Details
Brand
Wild Shot
Location
Warehouse
Texas