XPAC 24oz Double Vacuum Wall Stainless-Steel Camouflage Tumbler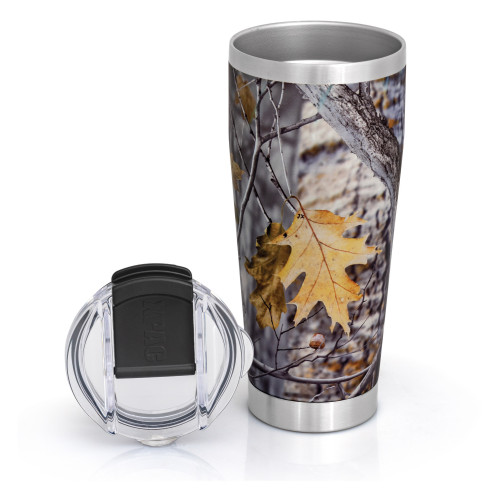 XPAC Camo Tumbler - Double Wall Vacuum Insulated Stainless Steel Tumbler - Camouflage Travel Container with Clear Flip Top Lid & Satin No-Sweat Finish - Flask for Water, Juice, Soda & Coffee - 24oz.
Studies show that the average person needs to drink up to 8 glasses of water per day to stay hydrated. But because of our busy schedules, we tend to forget to meet that minimum requirement. To help us remember, we need a large container that we can fill up with our beverage of choice at all times. On top of that, it should also be able to maintain the drink's temperature to keep it delicious. Luckily, this tumbler can do exactly that!

Enjoy Ice Cold or Hot Drinks - This hunting tumbler can help keep your drinks hot or cold for hours thanks to double-wall insulation. You can use this for beverages like water, juice, coffee, or tea.
Easy To Open Lid - Need to take a quick sip while you're on the move? Drink without spilling a single drop with the camo travel mug's flip top lid. Pull it up to open then push it down to close.
Durable Stainless Steel - Made of 304 stainless steel, you can bring this tumbler with lid anywhere without fear of it breaking, The interior is satin finished, which keeps condensation at bay.
Designed For Adventure - Drink in style. The camouflage print doesn't just look good, it also helps you stay hidden when you're hunting or bird watching. Take it along the next time you go camping!
Can Carry Up To 24oz - Stay hydrated throughout the day thanks to the tumbler's large 24oz capacity. This makes drinking easier by reducing the times that you have to refill your beverage.
Details
Brand
XPAC
Volume (oz)
24
Location
Warehouse
Texas