20 OZ Double Wall Beer Mug with Lid and Stainless Steel Interior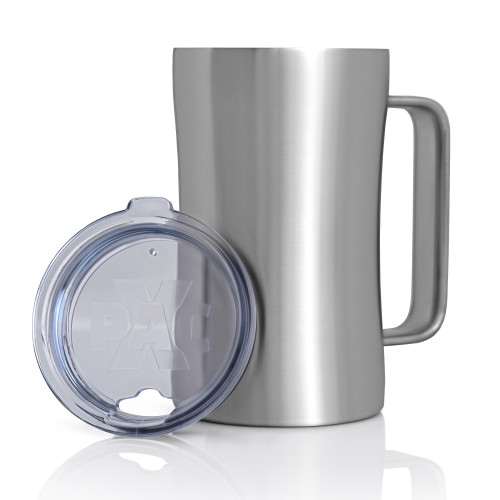 XPAC Stainless Steel Beer Mug with Lid - 20 Ounce Double Walled Vacuum Insulated Beer Mug - Shatterproof and Spill Resistant
This XPAC beer mug features T304 stainless steel double wall vacuumed insulated construction that will keep drinks hot or cold for hours. Our beer mug has an interior and exterior of satin stainless-steel finish. Topping it all off is the clear splash proof lid, helping to keep your favorite beer at the best temperature while making it easy to drink from. Holds 20 Ounces.

XPAC 20-ounce Double-Walled T304 Stainless Steel Vacuum-Insulated beer mug is a rugged beer mug that keeps your favorite beverages cold all day long!
Providing maximum insulation, our beer mug keeps your favorite beer at the perfect temperature for as long as possible.
Featuring a satin T304 stainless steel finish, laser welded handle, 20-ounce capacity and a tight spill-preventing lid, this beer mug cup weighs in at mere .75 lbs.
No matter how cold you like your beer, your beverage won't sweat, leading those unfortunate condensation spills. Keep the sweat rings off of your expensive furniture and table.
Details
Brand
XPAC by MAXAM
Volume (oz)
20
Location
Warehouse
Texas