8.5" Rigging Knife with Marlinspike Full-Tang Stainless Steel Blade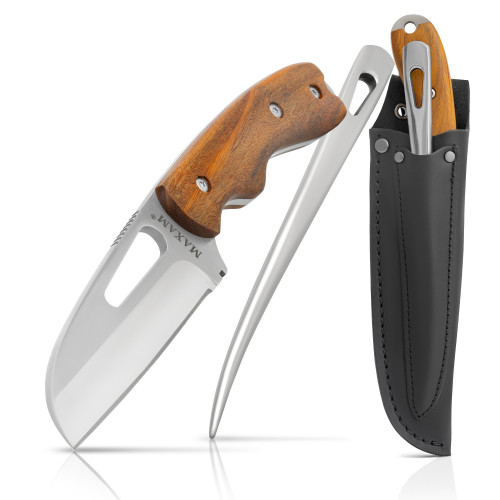 Maxam 8.5" Rigging Knife with Marlinspike - Full-Tang German Stainless Steel Fixed Blade Knife, Teak Wood Handle - Sailor's Marlin Spike Knife Kit with Leather Sheath - Camping, Fishing, Sailing Gear
Whether you're sailing or exploring the wilderness, a quality utility knife will always come in handy. You'll need a superior blade that can cut through tough ropes and thick bushes quickly. A tool to undo knots, such as a marlin spike, can also help you survive. After all, you'll never know when you'll need a length of rope. A sturdy, well-fitted sheath that can hold your tools together and keep your hands unoccupied is an added convenience you wouldn't mind having, as well.

Get The Job Done - This sailing knife features a full-tang blade for optimum balance and leverage even under extreme conditions. Cut cordage and thick bushes easily with this fixed blade marine knife.
Undo Knots & Shackles - This knife with sheath includes a marlin spike for splicing lines, loosening tight knots, and unlaying ropes. The shackle key in the knife blade is great for sailing/camping.
Durable German Fixed Blade Knife - The knife tool and spike are made of German stainless steel that wont break easily. It also features a solid teak wood knife handle that's sturdy and comfortable.
Carry It With You Anywhere - This boat knife kit comes with a bonded leather sheath to protect both the blade and spike. The leather knife pouch is designed with a belt loop for added convenience.
Secure, Non-Slip Grip - The wood grip knife is fixed with a solid teak wood handle that's sturdy and securely screwed on the tang. Its contoured design ensures you have a steady, comfortable grip.
Details
Brand
Maxam
Location
Warehouse
Texas