84oz Stainless Steel Beverage Pitcher Double Wall Vacuum Insulated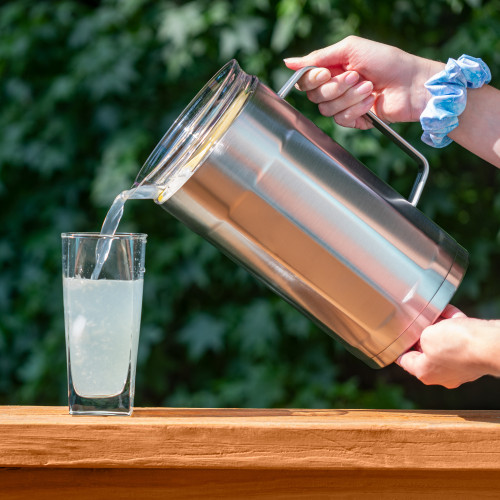 XPAC 84-Ounce Sweat-Free Beverage/Water Pitcher, Stainless Steel, Vacuum Insulated
The XPAC 84-Ounce Sweat-Free Beverage Pitcher holds up to 84 oz. of your favorite beverage hot or cold! Made from stainless steel with a double-wall construction, this pitcher is vacuum insulated so it will keep hot beverages hot and cold beverages cold. It features a satin-finish interior and exterior, which adds to its durability. This pitcher features a large comfort handle that makes it easier to transport your favorite drinks anywhere to a picnic, hike, campout, football game, party, or anywhere! With a clear acrylic security lid, this pitcher is designed to keep your drink safe and secure. A great accessory for hosting parties or serving guests, this pitcher is large enough to fill everyone's cup! Order this pitcher today so you can be prepared for any picnic, hike, or get-together. This pitcher makes a great gift for anyone who loves to drink soda, juice, tea, lemonade, or water! Give your family member, friend, or loved one a gift that they'll use everyday. The XPAC 84-ounce pitcher provides the quality, size, and convenience you need from a large water bottle or pitcher. Whether you want to take it to the gym, to a party, or to the campsite, this pitcher is up for any challenge. Its double-wall stainless-steel construction and vacuum-insulated design makes this pitcher the best choice for beverage transportation. Use it at school, the office, or home for convenient drinking and easy sipping. This pitcher is perfect for hosting friends, family, or loved ones for a dinner party or get-together!
LARGE PITCHER: This pitcher can hold up to 84 oz. of your favorite hot or cold beverage.
VACUUM INSULATION: With a double-wall vacuum design, this pitcher is sweat-free and insulated.
LIDDED PITCHER: It features a large comfort handle and acrylic lid for extra safety for your drink.
SERVING DISPENSER: This large drink pitcher is great for hosting parties, using outdoors, and more.
PICNIC PITCHER: This drink container is great for holding juice, tea, lemonade, and other drinks.
Details
Brand
XPAC by MAXAM
Volume (oz)
84
Location
Warehouse
Texas