Diamond Plate 6pc Assorted Paisley Cotton Skull Cap Set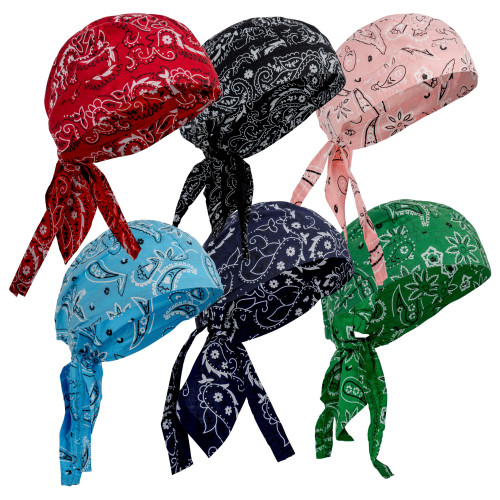 6 Assorted Designs Skull Caps Paisley Bandanna Biker Skull Hat Caps
Grab this set of 6 Diamond Plate Assorted Paisley Cotton Skull Caps, and you'll have plenty to choose from whether you're cruising the open road or lounging around the house. Shields your head from sun and wind, or wear under your helmet for comfort. Ladies, these are perfect to use during housework to protect your hair. Set of 6 assorted paisley designs includes the colors black, pink, navy, red, blue, and green. Features washable material. One size fit most.
SIX GREAT DESIGNS:6 Diamond Plate Assorted Paisley Cotton Skull Caps designed for cruising the open road on your bike or lounging around the house.
PERFECT FOR BIKERS: Wear under your helmet for warmth during cold rides. Skull caps will also protect your head from the rays of the sun helping to prevent sunburn and also aids in keeping sweat out of the eyes.
IDEAL FOR LABORERS: From construction workers to sailors, hard working people everywhere have found the skull cap to be a useful piece of clothing to keep grease, oil, dirt, and debris out of the hair. Making cleanup after work much easier.
FOR MEN AND WOMEN: The skull cap is unisex headwear and is perfect for everyone who likes a biker style. Male, female, young or old, these caps are an excellent choice for anyone that enjoys dressing in a renegade style.
Details
Brand
Diamond Plate
Location
Warehouse
Texas