Maxam 12pc Survival Knife Set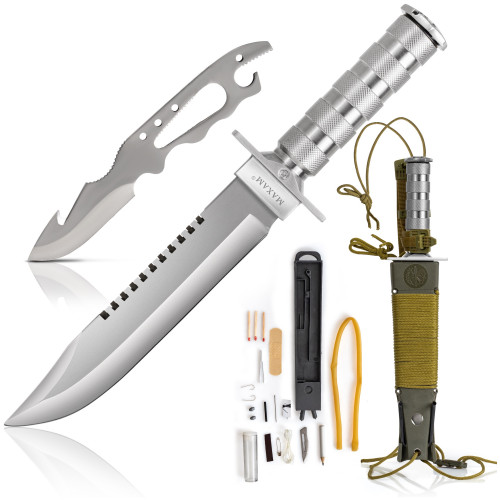 Maxam 12-Piece Survival Knife Set with Zinc Alloy Handles, Ideal for Survivalists, Hunters, Hikers, and Outdoor Sports Enthusiasts
Maxam's 12-piece Survival Knife Set gives outdoor sportsmen, adventure enthusiasts, campers, hikers, hunters and survivalists the raw physical power to handle any cutting task imaginable! Measuring 14" in total length with a 7 3/4" long 1/8" thick blade, our primary hunting knife features a hollow zinc alloy survival-tool capsule handle and our second 7" skeleton knife has a 1 1/2" blade with a gutting hook. This dependable Rambo knife is also equipped with a sheath-attached slingshot with tubing and missile pouch, knife sharpener, compass, and a scabbard-sheath safety latch for extra security. Survival tool storage capsule includes a bandage, fire starter and matches, fishing line, weights and hooks, razor blade, tweezers, pencil, safety pin and a needle and thread to combat all outdoor challenges immediately. ABOUT: Maxam creates powerful military survival knives and innovative hunting gear that are affordable and come with a Limited
THE FINEST MILITARY SURVIVAL KNIFE SET: Maxam's 12-piece Survival Knife Set gives outdoor sportsmen, adventure enthusiasts, campers, hikers, hunters and survivalists the raw physical power to handle any cutting task imaginable!
DYNAMIC CUTTING CAPABILITY: Measuring 14" in total length with a 7 3/4" long 1/8" thick blade, our primary hunting knife features a hollow zinc alloy survival-tool capsule handle and our second 7" skeleton knife has a 1 1/2" blade with a gutting hook.
RUGGEDLY RELIABLE INNOVATION: This incredibly dependable Rambo knife also comes equipped with a sheath-attached slingshot with tubing and missile pouch, knife sharpener, compass, and a scabbard-sheath safety latch for reassuring security.
THE BEST WILDERNESS HUNTING KNIFE: Survival tool storage capsule includes a bandage, fire starter and matches, fishing line, weights and hooks, razor blade, tweezers, pencil, safety pin and a needle and thread to combat all outdoor challenges effectively.
21ST CENTURY SURVIVAL GEAR & HUNTING EQUIPMENT: Maxam creates powerful military survival knives and innovative hunting gear that are affordable and come with a Limited Lifetime Warranty.
Details
Brand
Maxam
Location
Warehouse
Texas