Maxam 2-in-1 Knife Sharpener with Tungsten Carbide "V" Sharpeners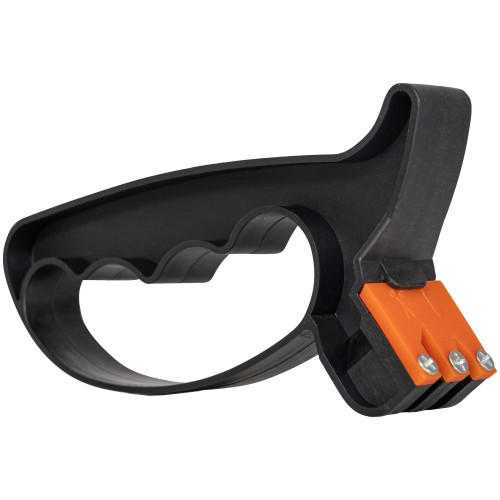 Maxam 2-in-1 Handheld Knife Sharpener - Tungsten Carbide V Professional Scissor & Knife Sharpeners for Kitchen & Workshop - Ergonomic Design, Safety Grip, Two Slots
A dull knife is far more dangerous than a sharp one. And that's because blades are fundamentally high-precision tools. There's a reason why we reach for scissors more than we do shredders scissors and knives are just better at slicing, dicing, measured snips, and precise cuts. But no blade lasts forever. All blades dull with time. Dull knives require more force and pressure to perform a task. That makes it harder to maneuver them and stay in control. It only takes one accidental slip to cause a serious injury or ruin a workpiece. The SKSHARP 2-in-1 Knife Sharpener from Maxam sharpens your blades efficiently, allowing for clean cuts every single time.

2-in-1 Blade Sharpener - This is a professional knife sharpener that's so handy, you'll one for the kitchen and one in the garage. It can help you restore the edge to any blade with just a few swipes.
Ergonomic Design - Hold the manual kitchen knife sharpener with one hand, use the other to pull the blade through one of the slots in one direction. The design allows for quick two-handed operation.
Less Pressure, More Control - Knife sharpening tip: start with a firm grip and apply moderate pressure. This knife and scissors sharpener is easy to maneuver so you can adjust your force in real-time.
A Razor-Sharp Edge - This fine-grit scissor sharpener has two slots of Tungsten Carbide V sharpeners to give you a refined edge, fast. The V shape is for grinding both sides of a blade simultaneously.
Safety First - Blunt knives and dull scissors need more force to operate, increasing the likelihood of slips or injury. If you can take care of your tools, you can keep the premises incident-free!