Maxam Lockback Knife with Stainless Steel Blade and Engraving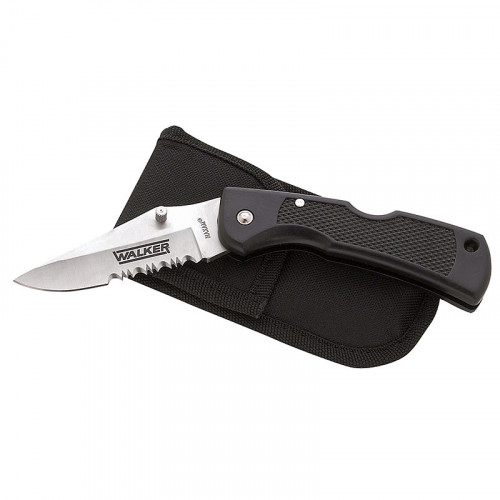 Maxam Extra Heavy-Duty Lock Back Knife with Leymar Handle - Fixed Blade Pocket Knife for Men, Hunting, Tactical & Survival, Includes Sheath
This knife is a quality fixed blade knife featuring a Leymar handle and a sharp, durable blade. Additionally, it has a protective ABS plastic sheath and lanyard hole, making it easy to carry safely and securely. And, with its stainless-steel construction, you know it won't let you down in any situation. This knife is not only great for hunting, but also for everyday tasks. It makes quick work of opening boxes, packaging and prepping food. Its solid, thick construction ensures that it can handle the toughest of jobs, while its comfortable ergonomic handle ensures you will always have a good grip. The Maxam Extra Heavy-Duty Lock Back Knife is the ideal pocketknife for any man who demands the most from his tools. Whether you need a compact, versatile knife for your next camping, fishing or hunting trip or a reliable knife for your daily routine, the Maxam Extra Heavy-Duty Lock Back Knife is the perfect choice. With the strength and reliability, you expect from a fixed blade knife and the convenience of a folding pocketknife, it is the ideal combination for anyone looking for a quality blade. Get your Maxam Extra Heavy-Duty Lock Back Knife today and experience the convenience and reliability you need.

Ergonomic Design - This Maxam Extra Heavy-Duty Lock Back Knife features a Leymar handle that fits comfortably in your hand, making it an ideal choice for long hours of hunting.

High Performance - This fixed blade knife features a strong steel blade that is perfect for cutting and piercing, making it an ideal choice for any task.
Convenient Storage - This pocketknife includes a sheath, allowing you to store it safely when not in use and transport it easily with its lightweight design.
Versatile Use - This knife is perfect for survival, tactical, and daily use, making it a great choice for any situation.
Durable Construction - With its heavy-duty construction and tough steel blade, this folding pocketknife is built to last and can handle any task with ease.
Print Details:
Imprint Area: Blade: 1" x 3/8"
Imprint Type: Laser
Minimum Quantity: 48
Details
Brand
Maxam
Total Length (in)
8
Location
Warehouse
Texas