Stainless Steel Fixed Blade Mini Cleaver Knife with Nylon Sheath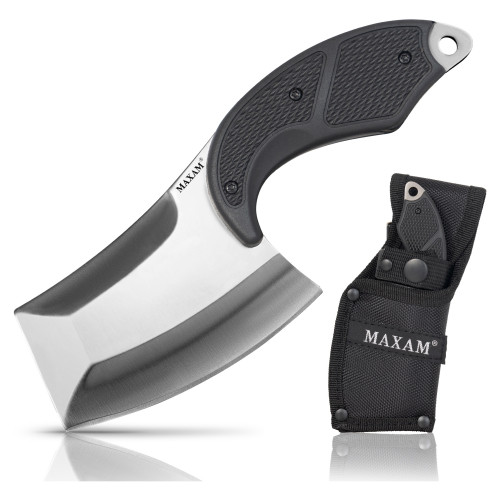 Maxam Mini Cleaver Knife - Stainless Steel, Stone-Washed Fixed Full Tang Blade, Pocket Tool for Slicing, Chopping, Cutting, Carving - Ballistic Cloth Nylon Sheath - Utility Gear for Outdoors, Camping
It's always a good idea to carry a pocket utility knife wherever you go. You just don't know when you will be needing a handy blade for cutting or slicing. Unfortunately, typical pocketknives only use a thin and flimsy blade that performs poorly when used for tough chopping, dicing, or slicing tasks. Our mini cleaver knife is the utility knife upgrade you need.
Take On Larger Cutting Tasks - Having trouble chopping or slicing with your thin utility knife? With its robust 3" blade, this mini butcher knife lets you cut, chop, and dice materials with ease.
A Firm & Strong Grip - Cut and slice with precision with this mini meat cleaver. It shows off a full tang, which is paired with an ergonomic FRN handle to give you a secure and comfortable grip.
Ready For Year-Round Use - Bring this cleaver pocket knife with you on camping, fishing, and outdoor trips. It uses a stainless-steel blade that withstands the formation of rust or corrosion.
Carry It Safely - Measuring 5 3/4" in length, this portable butcher cleaver is an excellent everyday carry tool. It comes with a ballistic cloth nylon sheath for safe and convenient storage.
Customer Satisfaction - We stand by the superior quality of our knives. If you are unhappy with our mini chef knife, let us know anytime so we can provide a refund or a replacement right away.
Details
Brand
Maxam
Total Length (in)
5
Location
Warehouse
Texas