Maxam Lockback Knife with Non-Glare Blade and Laminated Wood Handle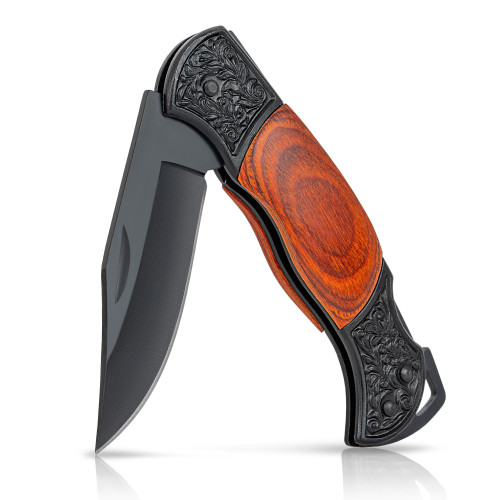 Maxam 4 1/2 Inch Lock back Knife - Folding Pocketknife w/ Stainless Steel Black Blade - EDC Knife for Camping, Hiking, Fishing, Outdoor Adventures Maxam Lock Back Knife
The Maxam 4 1/2 Inch Lock back Knife is a perfect everyday carry knife (EDC knife) with a sleek design that fits perfectly in your pocket. This sleek black honed blade folding knife is equipped with a stainless-steel frame and has a black-wood handle for a secure grip and added comfort. Perfect for camping, fishing, hunting, or any outdoor activity, this cutting tool is ideal for everyday use. Its reliable lock back system offers superior safety and an easy, one-handed opening and closing. This pocketknife is a perfect gift for any adventurer and outdoorsman. Whether you need a pocketknife for opening boxes, cutting rope, or simply convenience, the Maxam Lock back Knife will deliver superior performance no matter the task. The slim and lightweight design is perfect for everyday carry and its keychain-friendly design ensures that you can keep it secured onto your keys wherever you go. Its compact size makes it easy to transport from one place to another. The Maxam 4 1/2 Inch Lock back Knife is a must-have tool for anyone on the go. With its durable construction, reliable lock back system, secure grip handle, and premium steel blade, this sleek and convenient pocketknife is the perfect addition for anyone's EDC gear. Get yours today and enjoy a superior EDC knife that will last you a lifetime.

Stainless Steel Blade - This Maxam 4-1/2 Inch Lock back Knife is designed with a strong 2-1/2-inch stainless steel blade, perfect for cutting through almost anything. The blade is honed to a fine edge and treated with a black finish for extra protection from corrosion and oxidation.
Portable Design - This folding pocketknife is designed for maximum portability with a slim, lightweight body. Its flat design allows for easy storage and open carry in your purse, pocket, or wherever you go. The secure blade locking system ensures safety when you're on the go.
Ergonomic Handle - The ergonomic handle fits easily and comfortably in your hand. The rubberized, non-textured grip allows for firm and safe control when in use. The handle also has a built-in pocket clip, perfect for attaching to keychains or clips for easy access.
Reliable Lock back System - This pocketknife is equipped with a reliable lock back system to ensure safety and stability while in use. The hardened steel locking mechanism provides superior strength and reliability, making this knife perfect for camping, fishing or outdoor adventures.
Versatile Tool - This folding pocketknife is perfect for everyday EDC needs, such as opening boxes, fixing gear, and trimming rope. Its versatile design also makes it great for outdoor activities like hunting, fishing, and camping. Whether you need a reliable tool for everyday tasks or for outdoor adventures, this Maxam 4 1/2 Inch Lock back Knife is the perfect choice.
Details
Total Length (in)
7
Location
Warehouse
Texas